Directions
South Bay Galleria
1815 Hawthorne Blvd.
Redondo Beach, CA 90278
Your browser is not compatible. Please upgrade to Internet Explorer 6, Firefox 2 or better
Get Directions
Enter your starting address and click Go.
Starting Address:
Directions
South Bay Galleria is located at the corner of Hawthorne and Artesia Boulevards in Redondo Beach, 1/4 mile west of the 405 freeway. Convenient parking with 5,500 spaces and Valet.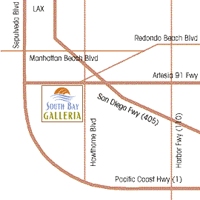 1815 Hawthorne Boulevard
Redondo Beach, CA 90278
(310) 371-7546
Mall Hours
Monday - Friday 10am - 9pm
Saturday 10am - 8pm
Sunday 11am - 7pm
Department stores, theater, restaurants and holiday hours vary.


Monday - Saturday 8am - 10pm
Sunday 9am-9pm


Monday - Friday 10am - 9pm
Saturday 10am - 8pm
Sunday 11am - 7pm


Monday - Friday 10am - 9:30
Saturday 9am - 9pm
Sunday 10am - 7pm