The tried-and-true tradition of wearing green on St. Patrick's Day is not going anywhere. In fact, St. Paddy's Day partiers have been enthusiastically donning shamrock shades of shamrock since the 1600s. When it comes to planning an all-green getup, you may feel like you have nothing to wear. But don't break tradition and miss out on all the fun (or risk getting pinched!). Instead, follow our foolproof style tips on how to look great in green – from head to toe.
Mad for Plaid
Green plaid is perfect for St. Paddy's. You can go the more traditional route with a bright Kelly green plaid shirt, or more muted with an earthier green plaid. Add a pair of distressed skinny jeans and a pair of flats for a quick and casual outfit. If you're going for a trendier look and the weather is pleasant, pull on some denim cut-off shorts, a white tee, and a pair of chic sneakers. Tie your green plaid around your waist and throw on a green suede baseball cap and you're ready to party.
Colored Pants
With spring fashion in full bloom, finding pants in a green shade is as easy as (shepherd's) pie. From pale mint to warm olive to rich emerald green, any shade of green will do. Try a pair of hunter green skinny jeans, or even a fresh spring, green pair – just add a cute pair of heels or booties and a neutral top so your green bottoms really stand out.
Dress Things Up
If you want to make a dressier statement on St. Paddy's Day, choose a green bodycon dress or a flowy, off-the-shoulder green top. Bold green florals and botanical patterns are also a trendy option and will add a lush, feminine vibe to your look. If you are off to a fancier evening celebration, you can dress things up with a sexy green sweater (especially one with cold-shoulders) or even a chic jumpsuit.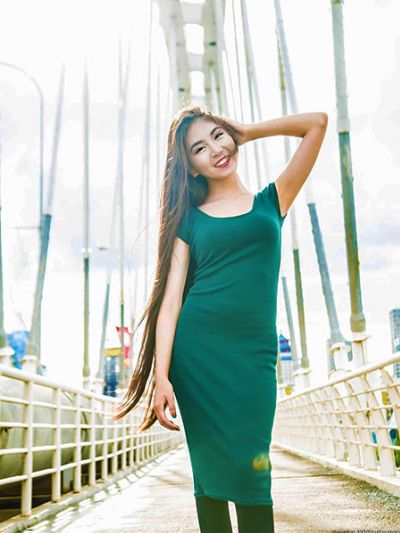 Ample Accessories
To really jazz things up for St. Paddy's, make sure you opt for plenty of green accessories. Feeling sparkly? Try a pair of glittering emerald stud earrings and stack on some rings with chunky green stones. Feeling functional? Sling a green cross-body bag across your shoulder or grab a cute clutch for a pop of color. A little chilly out? A green scarf is an ideal accessory if you need some added warmth.
Wearing green doesn't have to be a chore. Whether you decide to completely deck yourself out or just stick to a single, stylish piece of green, there's no such thing as going overboard – you can even rock a green mani. Go green and have fun!